Mom loved Krispy Kreme donuts,
I didn't get it ~ seemed to me ~ might as well
Even mini chocolate chip calories can add up quickly. Recently, I was happy to discover Lily's chocolate chips, a mere 50 calories per tablespoon.
They're delicious chocolate chips, they're sugar-free ~ you won't be mistaking them for Girardelli's or Hershey's, but they are good, natural sweeteners, with that rich deep chocolate taste, and no bitterness. Health food stores sell Lily's, as well as Whole Foods, and of course, Amazon.
I used Serve brown sugar in the dough, and
confectioner's

sugar, mixed with water, and vanilla for
the glaze. The taste of the glaze was OK, but I'd prefer a simple dusting of confectioner's sugar the next time.
Deep-frying donuts or anything for that matter, is not my thing. I just never got the hang of it, food was either under-cooked as in chicken, or grease-laden, not to mention the nasty messy greasy clean-up.
Baked donuts aren't the norm, and I'm not saying these have the same texture as the deep-fried version; nonetheless, these baked chocolate donuts are a tasty alternative, they will curb your sweet tooth, and they're definitely easy to make.
Before...
Voila!
So...
here's to my second attempt at baking donuts ~
if you're like me, you can't resist cake donuts ~

these chocolate gems are packed with flavor, and fewer calories!
Eat one of these donuts, and you can have your chocolate, and eat it too, guilt free!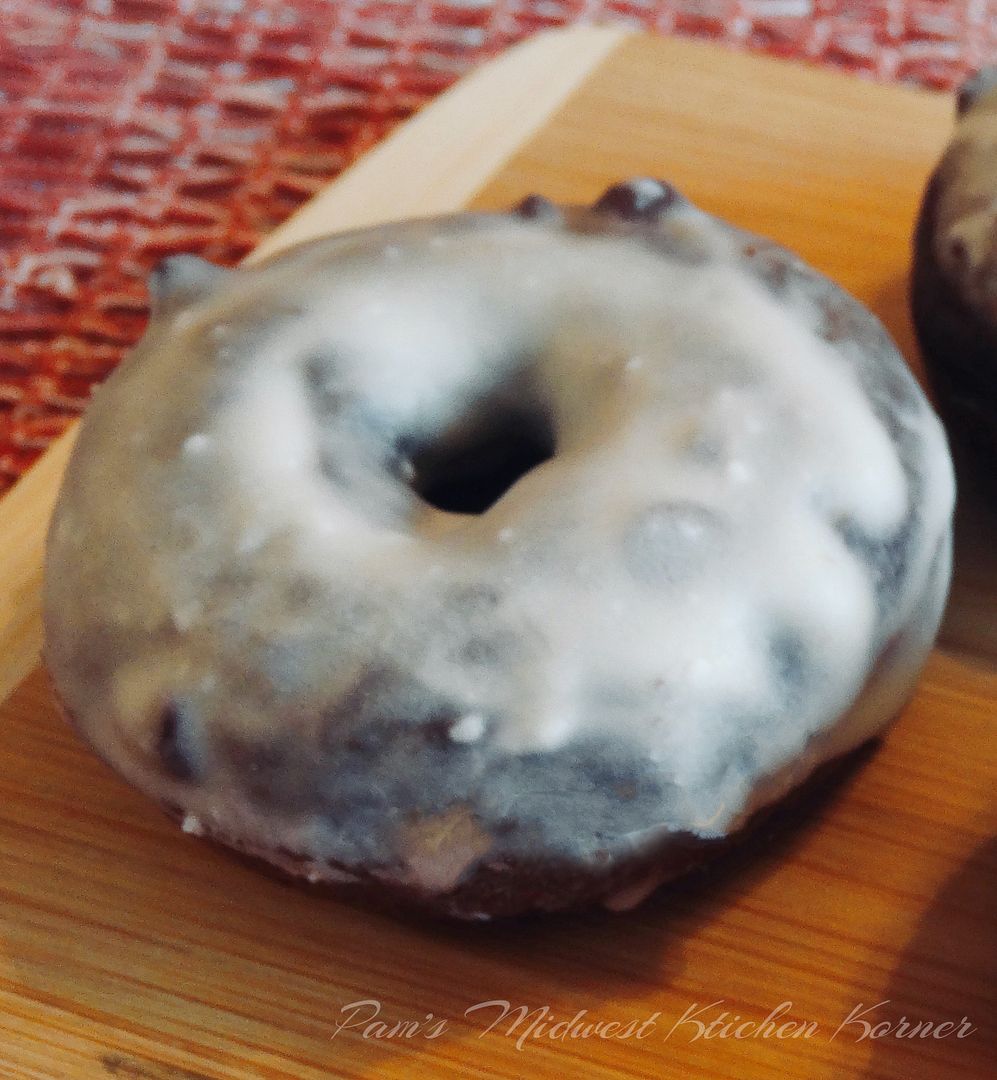 Easy Sugar-free Baked Chocolate Donuts
Prep time: 8 M
Cook time: 15 M
Total time: 23 M
These chocolate donuts are baked, they're easy to make, they taste great, they will curb your sweet tooth!
Ingredients:
½ cup flour
⅓ cup Swerve Brown Sugar Sweetener
¼ cup cocoa powder
¼ teaspoon salt
1 teaspoon baking powder
1 egg
3 tablespoons milk
2 tablespoons butter, melted
1 teaspoon vanilla
⅓ cup Lily's dark chocolate chips
Glaze (optional)
½ cup Swerve Confectioner's sugar
1 teaspoon vanilla
2-3 tablespoons milk
Instructions:
How to cook Easy Sugar-free Baked Chocolate Donuts
Preheat oven to 350°.
In a mediuml bowl, combine dry ingredients, flour through baking powder.
In a small bowl, stir in egg, milk, butter and vanilla, combine well.
Add chocolate chips, and stir.
Coat a 6-donut pam with cooking spray.
Spoon dough into donut pan.
Bake for about 15 minutes or until toothpick inserted in center comes out clean.
Let sit 5 minutes, then transfer to wire rack to cool.
Top with drizzled glaze, if desired.
Enjoy!