I was lucky enough to inherit two cast iron skillets ~ a 10-inch skillet from Grandma and a 12-inch skillet from Mom. They're way up there in years, probably 70 years at the least, and I handle them with TLC!
If you'd tell me that I could only have one cooking utensil in my kitchen,
this is what it would be!
Take good care of it, and you'll be privileged with clean-up time of mere seconds.
Soap never touches my cast iron skillets. Soap is designed to remove oil, that would remove the seasoning. After using, I wipe out the warm skillet with a paper towel, then after cooling, rinse with hot water and dry, always leaving a layer of oil/grease behind. The skillets improve year after year, developing a natural slick patina.
Cast iron is a great conductor of heat, perfect for searing meat.
The skillets can go anywhere, from your kitchen stovetop to the grill outdoors, to over a campfire. And they can cook about anything you want...
Salmon and cast iron skillets are perfect skillet mates, each is better with the other.
My mouth waters when I think of crispy salmon seared in the iron skillet. Sizzling butter adds a rich taste to the salmon, with capers adding a unique flavor of their own.
Matt gave me a great cookbook for Christmas, Skillet Love by Anne Byrn. It's packed with all sorts of recipes, from steak to cake, more than 150 recipes for a cast-iron skillet, including this Crispy Stovetop Iron Skillet Salmon.
Capers are unripened flower buds of a prickly, perennial plant known as Capparis spinosa. The buds are harvested manually, dried in the sun, then pickled in vinegar, wine, brine or salt. They're tangy, salty, with a slightly sharp taste. A tiny little ingredient that packs a punch and is perfect for salmon.
Splash a little lemon juice over all, and there you have it, a delicious entree for dinner---I really truly like this salmon, Mmmm!!!
If you're looking for an old cast iron skillet, look in a thrift shop, and snatch it up quickly if you're lucky enough to see one!
And then make this delicious salmon...
Bet you will be making it a lot also!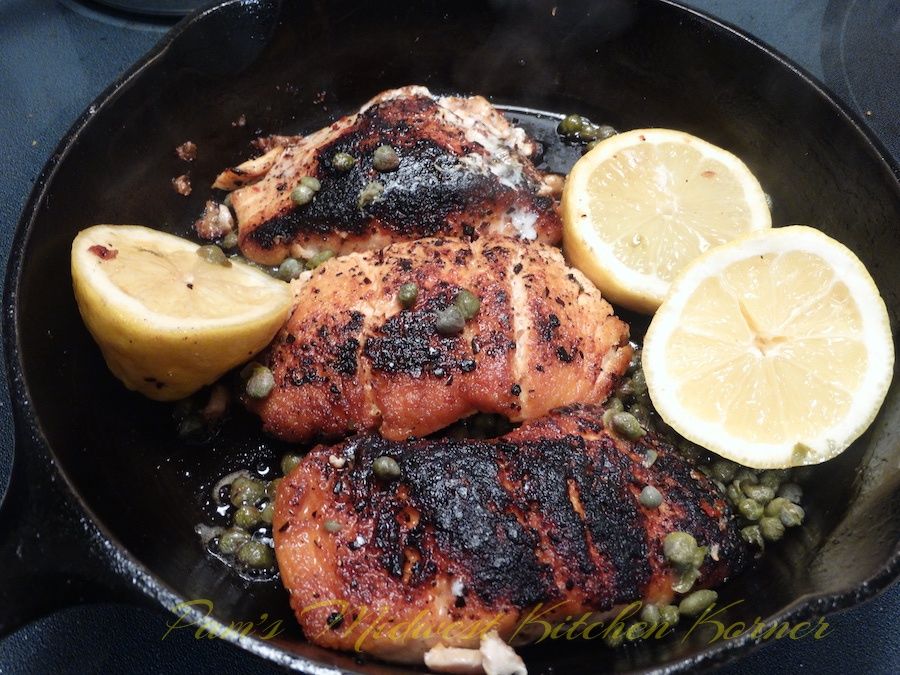 Crispy Stovetop Iron-Skillet Salmon
My mouth waters when I think of this crispy salmon seared in the iron skillet. Searing the salmon in a tad of butter gives it a rich taste, and capers add a unique flavor of their own.
Prep time: 5 M
Cook time: 12 M
Total time: 17 M
Ingredients:
1½ pounds salmon
Kosher salt and freshly ground black pepper
2 teaspoons vegetable oil
2 tablespoons butter, cut into pieces
2 tablespoons capers
1 medium lemon, cut in half
Instructions:
How to cook Crispy Stovetop Iron-Skillet Salmon
Season salmon liberally with salt and pepper.
Heat a 12-inch iron-skillet over medium-high heat until it smokes, about 4 minutes.
Add the oil to the skillet and place salmon in skillet, sear for 3-4 minutes, undisturbed.
Run a spatula under the salmon to loosen it, then carefully flip it to the other side and cook for 3-4 minutes more, depending upon thickness and to your liking.
Turn off the heat.
Add butter to skillet. When it melts, add capers and toss in skillet to heat them.
Squeeze lemon halves over salmon and let the juice reduce a bit.
Serve
Notes:
If the salmon has skin on one side, sear it first on the skinless side and finish skin-side down.
Enjoy!
Stay healthy,
stay home and take care
during this difficult time!