These delicious savory fork-tender chops
are topped with
stuffing and gravy,
they're right up Bill's alley!
Bill is a huge fan of pork chops and I'm always thinking of new ways of preparing them. If stuffing is involved, that's all the better in my way of thinking!
The chops are easy to make for a great weeknight meal, but can be prepared ahead of time, perfect for company.
There's nothing fancy about it, mainly pork chops a stuffing mix, and...
This is another "cream of" soup recipe: I actually very seldom cook with it these days, but when it's a chilly rainy evening, it's perfect in a dish such as this. No added salt is needed in this recipe; however, there's plenty of pepper sprinkled around ~ I do love pepper!
Ready for baking, love that pepper!
Make this delicious pork chops with stuffing, it's a quick and easy meal. Serve with a tossed salad or green vegetable and you're good to go!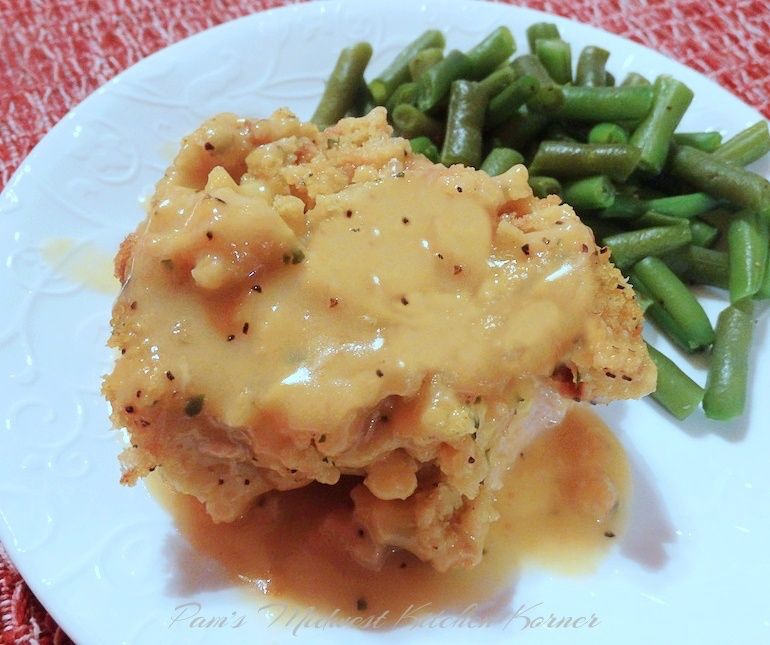 Stuffing-topped Baked Pork Chops w/Gravy
prep time: 20 M
cook time: 40 M
total time: 60 M
Delicious savory pork chops topped with your favorite stuffing mix, and gravy for a delicious filling dinner.
ingredients:
6 boneless pork chops, about 3/4 inch thick
1 package (6 ounces) stuffing mix, your favorite
1/2 teaspoon pepper
1 teaspoon onion powder
1 tablespoon vegetable oil
1 can cream of mushroom soup
⅓ cup milk
instructions:
How to cook Stuffing-topped Baked Pork Chops w/Gravy
Preheat oven to 350°.
Make stuffing according to package directions, set aside.
Season the pork chops with pepper and onion powder.
Heat oil in a large skillet over medium-high heat. Brown the pork chops on both sides, for about a minute on each side.
Arrange the chops in a 9×13 baking dish that has been coated with cooking spray.
Spoon ½ cup of the stuffing mixture over the top of each chop.
Mix soup and milk together, pour over the chops.
Cover with foil, bake for 35 to 40 minutes.
Serve with your favorite veggies!
Enjoy!