Are you in the mood for chicken tonight? If you are, here's a great recipe for it!
Everyone seems to love chicken and there are several things I like about this recipe: the ease of preparation, just a few simple ingredients and no sacrifice of the flavor because it is simple. It tastes mmm mmm good!
This dish is great for a weeknight meal or company also. Just dip the chicken breasts into beaten eggs, coat them with the Parmesan bread crumb mixture, drizzle with the
spicy,
garlicky Robusto Italian
dressing and pop them into the oven. They come out baked to perfection, being fork tender. I served it with rice and a crisp mesclun salad.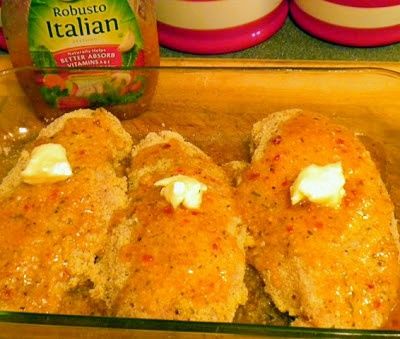 Italian-Style Baked Chicken Breasts
Prep time: 10 M
Cook time: 45 M
Total time: 55 M
If you're in the mood for chicken tonight, this is a great easy recipe, the chicken is delicious, thanks to the Italian dressing and Parmesan. It's a hit!
Ingredients:
4 boneless skinless chicken breasts, pounded thin if very thick
2 eggs, beaten
1 cup Parmesan cheese
1 cup Italian bread crumbs
½ tablespoon garlic powder
¼ teaspoon salt
¼-½ teaspoon seasoned pepper
¼ cup Wishbone Robusto Italian Salad Dressing
4 teaspoons butter
Method:
Wash chicken, pat dry.
Combine cheese, bread crumbs, garlic powder, salt and pepper on a plate.
Dip chicken into eggs.
Dredge chicken with crumb mixture.
Place on greased baking sheet.
Drizzle with salad dressing.
Place pat of butter on each chicken breast.
Bake at 350 degrees for 45 minutes.