I love Everything Bagels!
It's all about those great seasonings...
A blend of aromatic dried garlic and tear-free dried onion, the deep nutty flavor of poppy seeds, the sort of sweet, nutty taste of white sesame seeds, the stronger, slightly bitter flavor of black sesame seeds, plus coarse salt.
If you're a fan of everything bagels and can't get enough of those great seasonings, this super easy recipe is for you!
Make your own seasoning and you can sprinkle it on your favorite foods.

It's amazing how these simple ingredients have a huge impact on a plethora of dishes, from asparagus, various meats and sea food, cheese dips, vegetables, fried eggs and omelets, slaws and salads; combine it with butter for a spread, sprinkle it on mac and cheese, popcorn, pizza, risotto, salad dressings, potato salad, soup, stir-fries, baked potatoes, cottage cheese, to zucchini, and on and on...
Courtesy of Parade

Make this seasoning in 5 minutes and amp up your favorite dishes with its tasty, nutty, crunchy flavor!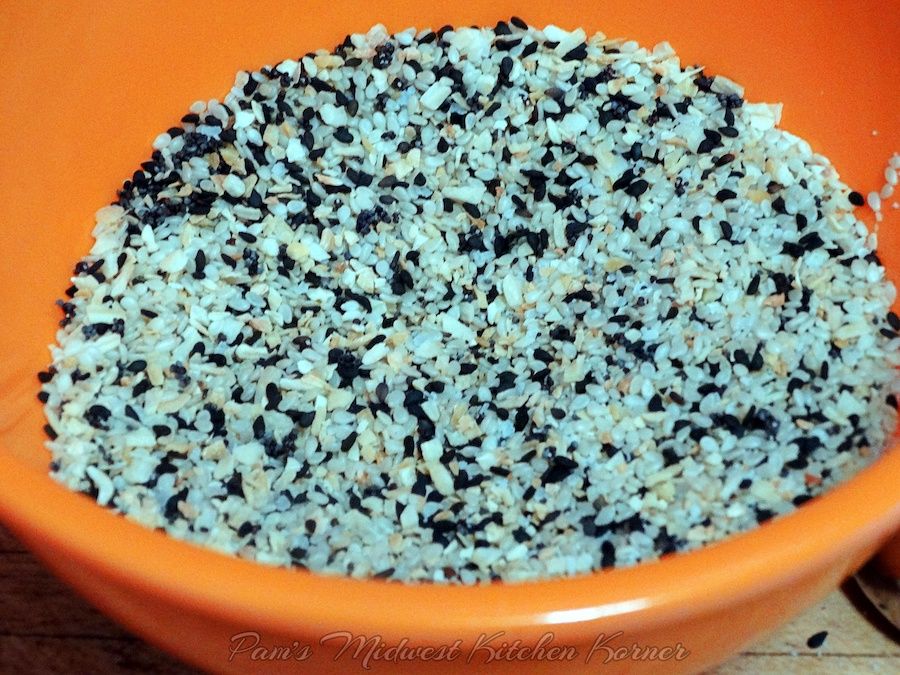 Homemade Everything Bagel Seasoning
Servings:
Makes about ½ cup
Prep time: 5 M
Cooking time:
Total time: 5 M
Ingredients:
¼ cup white sesame seeds
1 tablespoon coarse (kosher) salt
1 tablespoon minced dried garlic
1 tablespoon minced dried onion
1 tablespoon black sesame seeds (or more white seeds)
2 teaspoons poppy seeds
Method:
In a small bowl or jar with a tight-fitting lid, place and ingredients.
Stir or shake well.
Keeps almost forever.
Enjoy!