Evidently, the COVID-19 lockdown
has created the perfect time
for baking bread.

That is,
if you can find yeast and bread flour...
Flour shelves have been empty in grocery stores here in Cary, and around the area just northwest of Chicago, not to mention yeast. And, forget about trying to find bread flour on line the last few weeks...
Then a couple of times when a limited flour supply was available, it was never bread flour until last Wednesday, when Bill spied 3 bags of bread flour in Jewel.
Woo hoo, homemade bread!
Freshly baked bread is one of life's great pleasures ~ just the smell of it is enough to make my mouth water! What an aroma!
I have baked a lot of bread over the years, and this recipe delivers bread that has that unique, malty flavor of yeast which a quick bread will not offer.
This is simple easy yeast-leavened dough that combines bread flour, water, sugar, salt, vegetable oil.
Yeast bubbles
Ready to knead










First rise


Punch down
2nd rising
The recipe calls for bread flour: The first time I made this recipe, I overlooked that and used "all-purpose flour." It absolutely made a difference; the bread was heavier, denser, and did not rise well, although the taste was good. So use the lighter flour, bread flour, for a better loaf of bread.
Voila! Baked 'n Buttered!
Knead the dough, let it rise, punch it down and let it rise again and bake! Mixer not necessary, dig in with your hands to mix the dough as you add the flour.
Before long, you will have a couple of golden-brown crusty loaves of bread yielding soft tender slices ~ perfect for sandwiches, toast and more.
Good to the last crumb!
Tried and true, this is my favorite recipe for easy old-fashioned white bread with that specific yeasty flavor...
So now that you have a great recipe, grab that yeast and flour and start baking!
Delicious any way you slice it!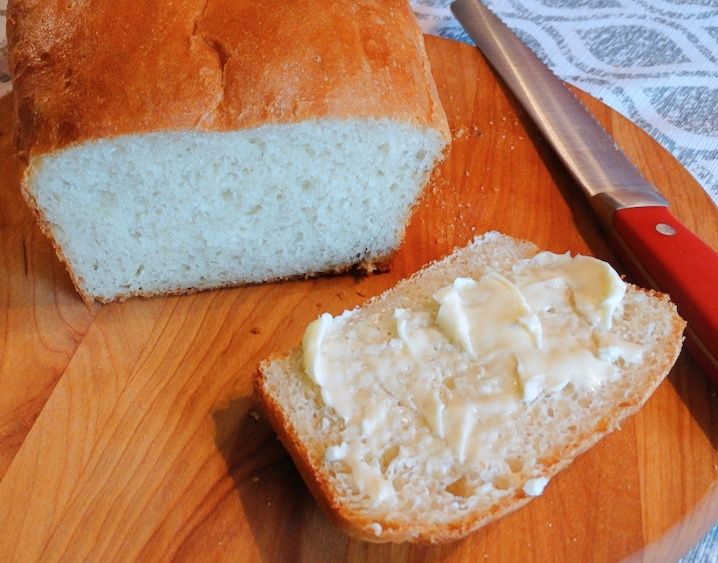 Classic Homemade White Bread
Tried and true, easy old-fashioned white bread with a golden crust that's tender inside, with that specific yeasty taste!
Ingredients:
1 package (1/4 ounce) active dry yeast
2-1/4 cups warm water (100° to 110°)
3 tablespoons sugar plus 1/2 teaspoon sugar
1 tablespoon salt
2 tablespoons vegetable oil
6-1/4 to 6-3/4 cups BREAD flour
2 tablespoons butter, melted
Method:
In a large bowl, dissolve yeast and 1/2 teaspoon sugar in warm water; let stand until bubbles form on surface.
Whisk together remaining 3 tablespoons sugar, salt, and 3 cups flour. Stir oil into yeast mixture; pour into flour mixture and beat until smooth.
Stir in enough remaining flour, 1/2 cup at a time, to form a soft dough.
Turn onto a floured surface; knead until smooth and elastic, 8-10 minutes.
Place in a greased bowl, turning once to grease the top. Cover and let rise in a warm place until doubled, 1-1/2 to 2 hours.
Punch dough down. Turn onto a lightly floured surface; divide dough in half.
Shape each into a loaf. Place in 2 greased 9x5-in. loaf pans. Cover and let rise until doubled, 1 to 1-1/2 hours.
Bake at 375° until golden brown and bread sounds hollow when tapped or has reached an internal temperature of 200°, about 30-35 minutes.
Remove from pans to wire racks to cool.
Brush top of loaves with melted butter.
Notes:
Prep time: 20 minutes
Rising time: 3 to 3-1/2 hours
Baking time: About 30 minutes


Enjoy!