Just tasty tender pork chops here,
coated with a great dry rub.
This is my go-to rub, a good blend of aromatic herbs and spices:
Hungarian sweet paprika, garlic powder, onion powder, salt, seasoned pepper and oregano. I

t's everyday ingredients most of us have on hand.
Depending upon whether they're bone-in chops or boneless, and depending upon thickness, and oven temperature, the time for baking pork chops varies greatly.
Oven-ready
A thickness of at least ¾" to 1½" is recommended for baking pork chops in the oven. Check the thickest part of a chop every 10 or so minutes with an instant-read thermometer, until it reads about 145°.
Baked pork chops is your basic foolproof dinner. They're easy to make and turn out tender, juicy and succulent every time using this baked pork chop recipe!
They are truly delicious, fork-tender and pork chops!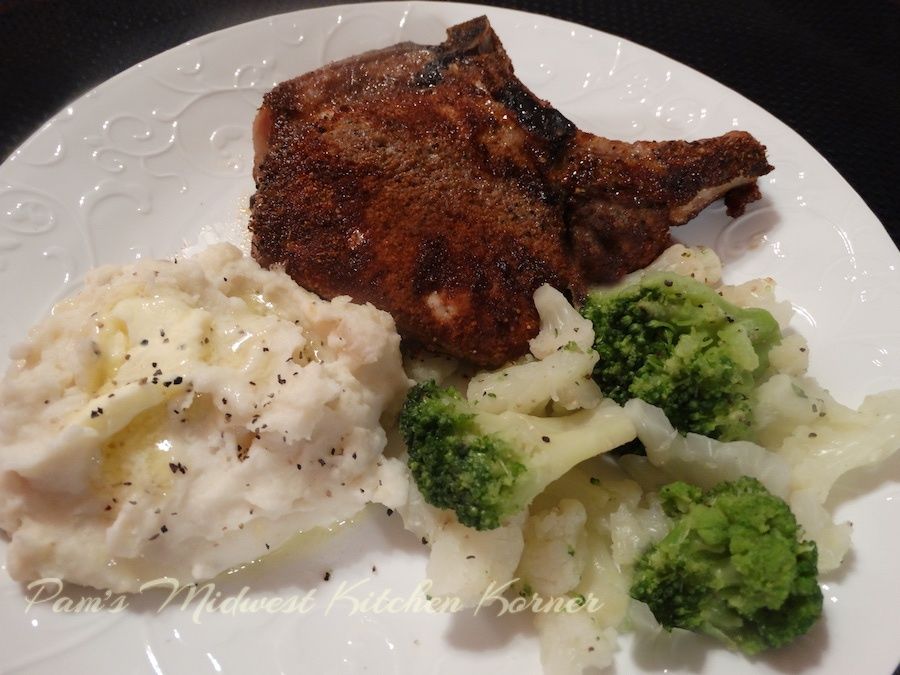 Fork-tender Oven-Baked Pork Chops
Prep time: 5 M
Cook time: 30 M
Total time: 35 M
Pork has a naturally mild flavor, and needs to be seasoned generously with a good rub of simple ingredients from the cupboard: garlic powder, onion powder, salt, seasoned pepper and oregano.
Ingredients:
4 (1¼-inches thick) loin pork chops, trimmed of excess fat
2 teaspoons garlic powder
2 teaspoons onion powder
1 tablespoon Hungarian sweet paprika
1 teaspoon each: salt, seasoned pepper, and oregano
2 tablespoons olive oil, divided
Method:
Preheat oven to 350°.
In a small bowl, mix dry ingredients together.
Drizzle 1 tablespoon of oil on both sides of pork chops.
Sprinkle spices over both sides of the meat.
Place in baking dish and drizzle with remaining oil.
Bake for about 25-30 minutes or until internal temperature is 150°.
Remove from oven, let stand for 5 minutes.
Serve
Enjoy!