Lately, (like the last 5 years) I've seen a plethora of bloggers praising how good their baked donuts ~ I secretly wondered ~ how good are they, really?
The food blogger side of me is just a touch embarrassed to admit I'm more than a little late in hopping on the baked-donut-band-wagon.
There was a good reason for that ~ the high sugar and fat content of donuts. Now, I've got a tasty guilt-free, sugar-free cinnamon donut that is great for breakfast or a treat!
So I took the plunge and bought yet another cooking tool after swearing I was done with buying new tools and gadgets.
The molds for baking donuts are a wonderful thing, easy to use, and there's no hot oil to deal with. They bake just the right size donuts, and the pans are easy to store.
We all know, there's simply nothing good about sugar: it contains no vitamins or minerals, no protein, nor essential fats; no nutritional value. Over the years, in avoiding sugar, I've used a wide variety of sweeteners. It seems, new low-calorie sweeteners appear on the market almost too fast to keep up with.
The best, my opinion.
My preference now is Swerve Sweetener, a calorie-free sugar substitute made from natural ingredients. It has the unique function in its ability to brown and caramelize like sugar, with no bitter after taste. It measures like sugar and is a keto friendly sweetener for those of you on the keto diet, and is a great product for blood sugar stabilization.
These cinnamon donuts made us all smile! They're not your typical 'doughnut' made from yeast and deep-fried in sizzling hot oil ~ they are perfectly cakey and have that spongey dense texture. They're tender and delicious.
Baked
The tops bake to a pale golden brown which are springy to the touch. The inside 'cake' part delivers great flavor thanks to a combo of cinnamon and nutmeg. Dip them in a little melted butter and take them in a roll through spicy cinnamon and sugar for a mouth-watering treat!
Few things in life are more enjoyable than homemade fresh donuts.
They make the house smell like a bakery, and might even make Home Simpson green with envy!
And, yes! These are that good!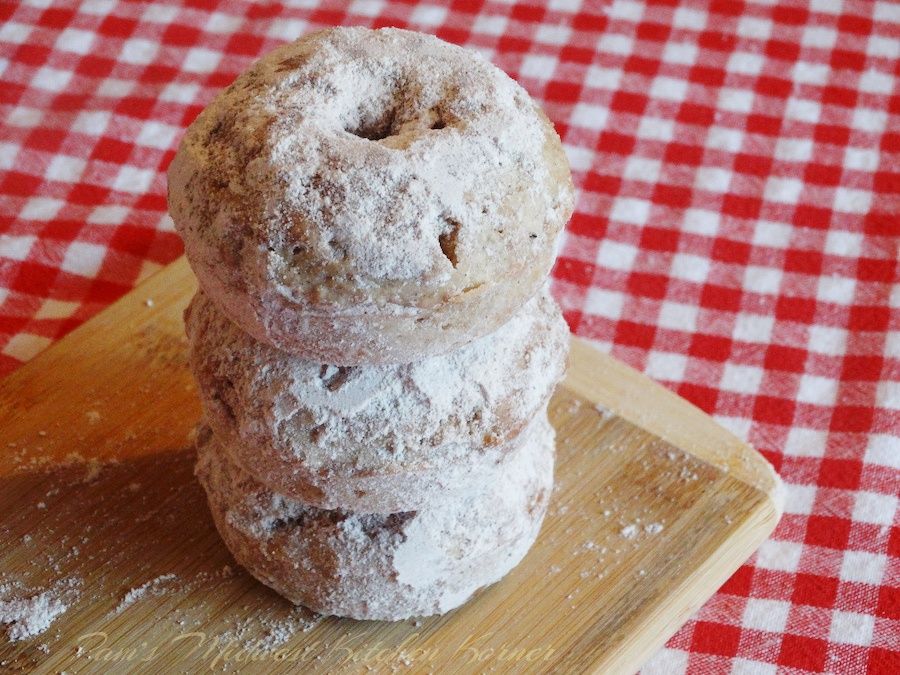 Homemade Baked Cinnamon "Sugar" Donuts
prep time: 10 M
cook time: 10 M
total time: 20 M
Few things are more enjoyable than a freshly baked donut. Here's a tasty guilt-free, sugar-free cinnamon donut that is great for breakfast or a treat!
Ingredients:
For the donut:
1 cup all-purpose flour
5 tablespoons Swerve granular sugar
1 teaspoon baking powder
1/2 teaspoon salt
1/2 teaspoon cinnamon
1/4 teaspoon nutmeg
1/3 cup + 1½ tablespoons milk
2 tablespoons butter, melted
1 egg
1 teaspoon vanilla extract
For the cinnamon-sugar topping:
2 tablespoons butter, melted
1/2 cup Swerve confectioners sweetener
1/2 teaspoon cinnamon
Instructions:
How to cook Homemade Baked Cinnamon "Sugar" Donuts
Preheat oven to 350°.
Spray a donut pan with nonstick cooking spray and set aside.
In a large bowl whisk together flour, sugar, baking powder, salt, cinnamon, and nutmeg.
In a small bowl whisk together milk, butter, egg and vanilla extract.
Pour wet ingredients into dry ingredients and stir just until combined; do not over-mix the batter.
Spoon the batter into the donut pans, filling 3 ∕ 4 of the way full, no more.
Place pan in oven.
Bake for 8 to 10 minutes.
Remove from oven and allow to cool in the pan a minute or 2 before inverting onto a wire rack to cool down enough to handle.
Make the cinnamon-sugar topping: In a small bowl mix together the sugar and cinnamon.
Brush each donut with melted butter, then dip in the cinnamon sugar mixture until well coated.
Enjoy!