It's "chuck roast," Mom corrected me, on the day I blurted out "pot roast." Must've been because she didn't want the cattle on our farm to be offended... 😉
This is surely, a classic old fashioned dish. In fact, when Bill and I married and lived in Louisville, it seemed like I served this for Sunday dinner after church about every Sunday I could. Place it all in the Dutch oven and let the oven do all the work, roasting nice and slow while we were at church.
Nothing like walking in the door to this aroma, well cooked seasoned roast, potatoes, carrots and onions, couldn't get it on the dinner table fast enough!
Ready for roasting


I loved it, it was easy to make, but it was overkill, the boys eventually got tired of eating it so often, and ball games, etc. got in the way! It was a long while before I made it again, and then another length of time to yesterday, Sunday, when I cooked it...
It was a cold (14°) day with 5-inches of new snow on the ground, perfect weather for beef roast and vegetables for our dinner.
This is still one of my absolute favorite meals. It's a well marbled chuck roast that winds up being fall-apart-tender and melt-in-your-mouth delicious. It's not a meat to rush, it has to be roasted for a long period of time.
Voila!
This slow cooked roast is an easy and delicious way to put dinner on the table on a Sunday for your family or when you have company.
Just remember to pass the horseradish, it's a necessity. Bill says this is the only meat he likes with horseradish!
It will not be years before I make this dinner again, it's till one of my favorites, and here's what Mom used to do with the leftover meat ~ these days, Bill carries on with it; he makes a delectable beef salad sandwich!
It's all just SO GOOD AND DELICIOUS!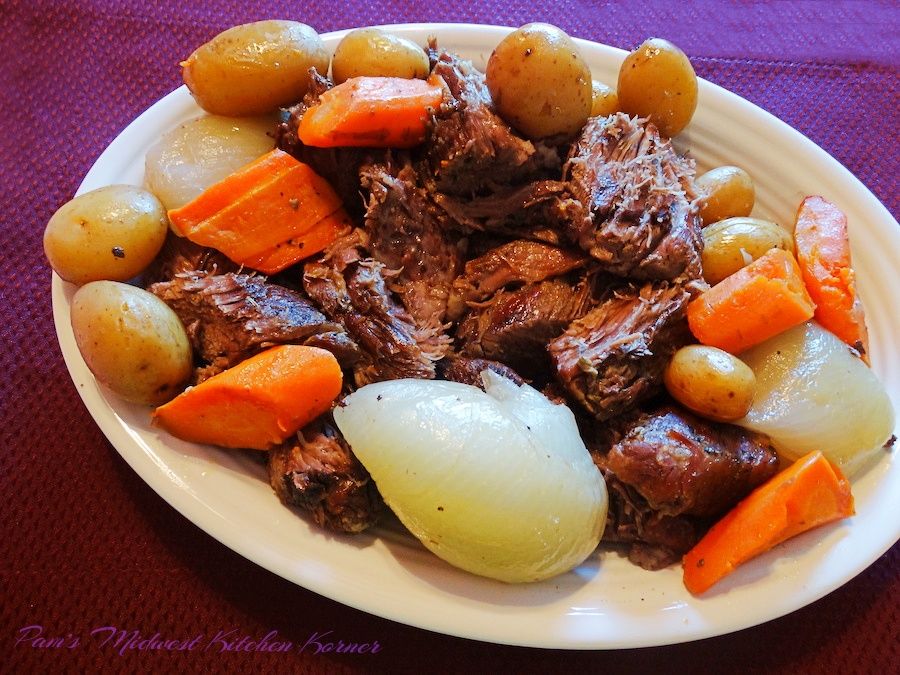 Old Fashioned Chuck Roast w/Potatoes, Carrots and Onions
prep time: 30 M
cook time: 4 hour
total time: 4 H & 30 M
Just like Mom used to make, it's delicious meat and veggies, perfect for a winter day!
ingredients:
3-5 pounds chuck roast, trimmed of excess fat
4 large carrots, peeled and sliced into chunks
1½ pounds baby potatoes
3 large onions, halved
Salt and pepper, to taste
Farmers Prepared Old Fashioned Horseradish
instructions:
How to cook Old Fashioned Chuck Roast w/Potatoes, Carrots and Onions
Preheat oven to 350°.
Place meat and vegetables in Dutch oven, sprinkle with salt and pepper.
Cook until done and meat is fork tender, about 3 to 4 hours.
Transfer meat to a platter and slice, surround it with the vegetables.
Serve with horseradish on the side.
Enjoy!