Tilapia has been around since 1500 B.C. ~ it's not surprising then that the fish has history connected to the Bible.
It has been fished in the Sea of Galilee for thousands of years.
Supposedly the fish that was caught by St. Peter was thought to have been tilapia. This is one reason why the fish is also known as "St. Peter's fish" and is separated from meat according to Lenten standards.
Here's why most cooks like tilapia: it's inexpensive, easy to prepare, widely available and "goes with everything." It's also a good source of protein and has a low to moderate fat content. It tastes pretty good too.
Love those beans!
Tilapia is a mild flavored white-fleshed fish that can be found at fish counters throughout the year. China is the largest producer of tilapia, manufacturing over 50% of the world's supply.
It's currently the fourth most popular type of fish following tuna, salmon and Alaskan pollock.
I came across this recipe in the Chicago Tribune way back when and decided to finally make it. We're all aware we should eat more healthy baked white fish like tilapia, and this recipe proves how tasty the fish can be.
Ready for baking!


Creamy cannellini beans, black olives and lemon slices are perfect for the mild-flavored tilapia and is a great throw-together way of cooking a healthy quick meal.
This is a satisfying baked tilapia dish that you can feel good about feeding to anyone around your table!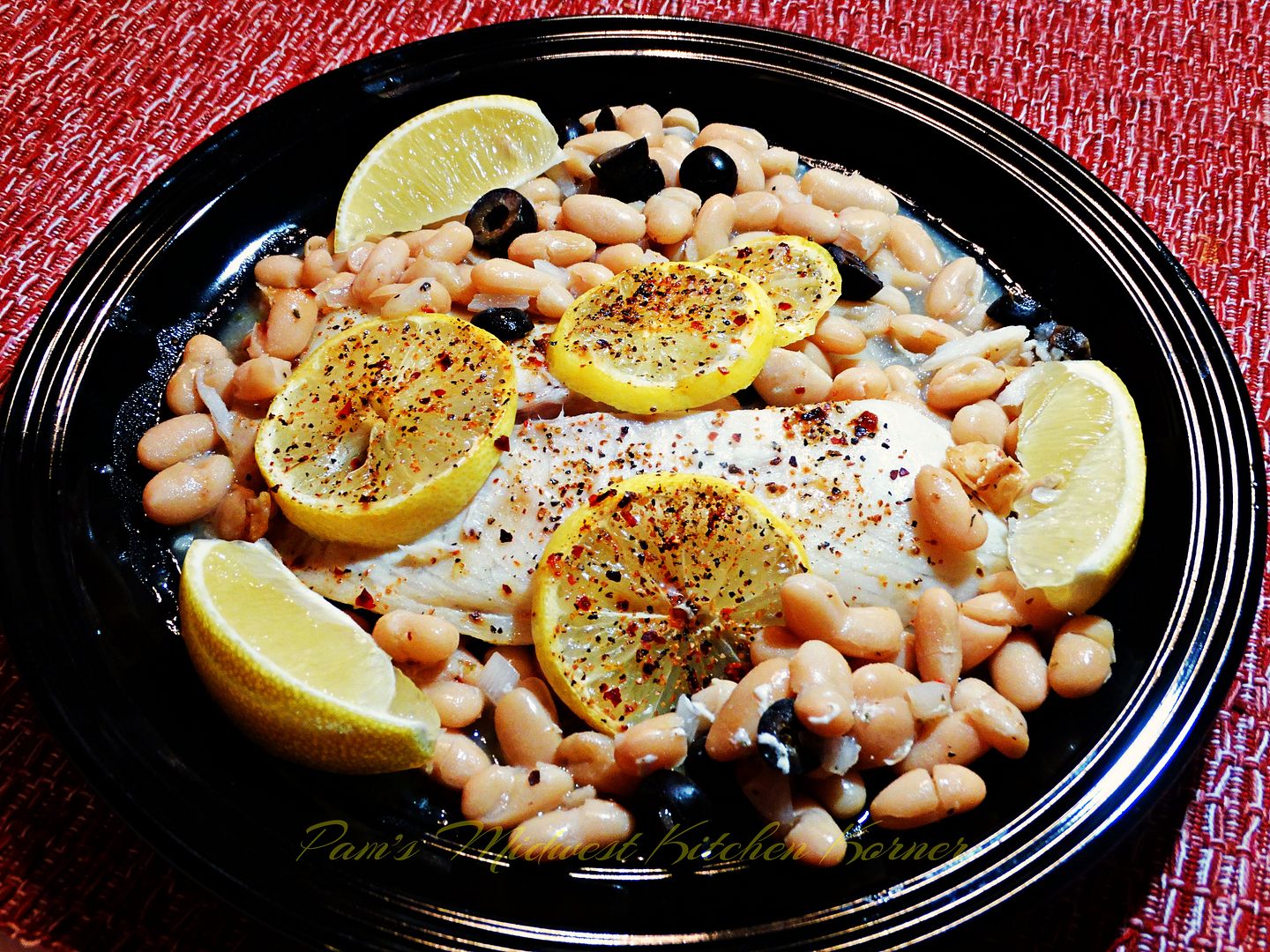 Baked Tilapia with Cannellini Beans and Black Olives
prep time: 5 M
cook time: 25 M
total time: 30 M
Bake tilapia with creamy cannellini beans, black olives and lemon slices for a healthy quick meal that's delicious!
ingredients:
1½ pounds tilapia or other firm whitefish
2 (15.5 ounces) cans cannellini beans (white beans)
½ cup sliced black olives
½ teaspoon salt
½ teaspoon seasoned pepper
¼ teaspoon crushed red pepper
½ teaspoon crushed oregano
1 small white onion, chopped
2 lemons, divided
4 tablespoons extra-virgin olive oil
instructions:
How to cook Baked Tilapia with Cannellini Beans and Black Olives
Preheat oven to 400°.
In a shallow 3 quart baking dish, combine beans, olives and seasonings and onion.
Arrange fish on top and season fish with a sprinkling of salt and pepper.
Thinly slice one lemon, remove seeds and place over fish.
Drizzle all with oil.
Roast until fish is opaque and cooked through, about 20-25 minutes, depending upon thickness of the fish.
Cut remaining lemon into wedges and serve alongside fish and beans for squeezing over.
Enjoy!
I'm going way off the subject for a minute, did you know that tilapia provides more than food for us?
Thanks to veterinarian, Jamie Peyton, koala bears, kangaroos, wallabies and other animals who were burned in the Australian wildfires, are being treated by her and her team of vets, using technology she pioneered.
They use skin from farmed tilapia to aid in healing the animals burns. The skin acts as a dermal substitute that provides pain relief and helps their wounds heal better.
Kudos to them!