Soft, chewy peanut-buttery cookies, rolled in sugar and topped with a Hershey kiss ~ a cookie both sweet and salty. In other words, Peanut Butter Blossoms!
Blossom cookies debuted at the ninth Pillsbury Bake-Off and have been a classic Christmas cookie since then. In my way of thinking, they're a good thing to bake any time of the year!
The cookie happened by accident: So the story goes, Freda F. Smith of Gibsonburg, Ohio, attempted to bake a batch of peanut butter chocolate chip cookies and while combining the dough ingredients, discovered she had no chocolate chips in the cupboard.
Freda Smith
However, she did have a bag of Hershey's Kisses. She proceeded with her cookie dough and baked them as is, pulled them out of the oven, and plopped a kiss in the middle of each hot cookie, thus Peanut Butter Blossoms were born...
Freda entered her blossoms in the Pillsbury Bake-Off in 1956, held in the Beverly Hills Hotel, with a young Illinois-born actor emceeing the event, our future President of the United States, Ronald Reagan.
Mrs. Smith's Peanut Butter Blossoms came in third place winning her a General Electric range, a mixer and $100 cash.
Freda lost to Berkley, CA resident, Gerda Roderer's, Accordion Treats, an Alsatian-type cookie, which won the grand prize of $25,000. Gerda's cookie gets its distinctive shape by being baked in pleated sheets of aluminum foil. No peanut butter in her cookies, just butter, vanilla, sugar, and flour, nothing extraordinary in Gerda's cookies.
Gerda Roderer's Accordion Treats
I don't know about you, but I've never heard of "accordion treats," while most of us are familiar with Smith's Peanut Butter Blossoms, which became very popular with cookie lovers around the world ~ they have been gracing many a cookie tray, and showing up at bake sales, reunions and parties all over the country!
It took years for Mrs. Smith's cookie to gain its deserved recognition. The cookie was inducted into the Pillsbury Bake-Off Hall of Fame in 1999, when Pillsbury named her Peanut Butter Blossoms one of the most treasured recipes in the company's history.
My Blossoms rolled and ready
It was later recognized in the Bake-Off Hall of Fame within the Smithsonian's National Museum of American History.
My mouthwatering Blossoms
Unfortunately, Mrs. Smith passed away in 1963 without seeing her cookie honored. Her posthumous award was accepted by her daughter, Jo Anne Smith, at the ceremony held at the National Press Club in Washington, D.C.
Bless you, Freda Smith, for your cookie-cult classic!
They're incredibly marvelous for those of us who love peanut butter the way I do!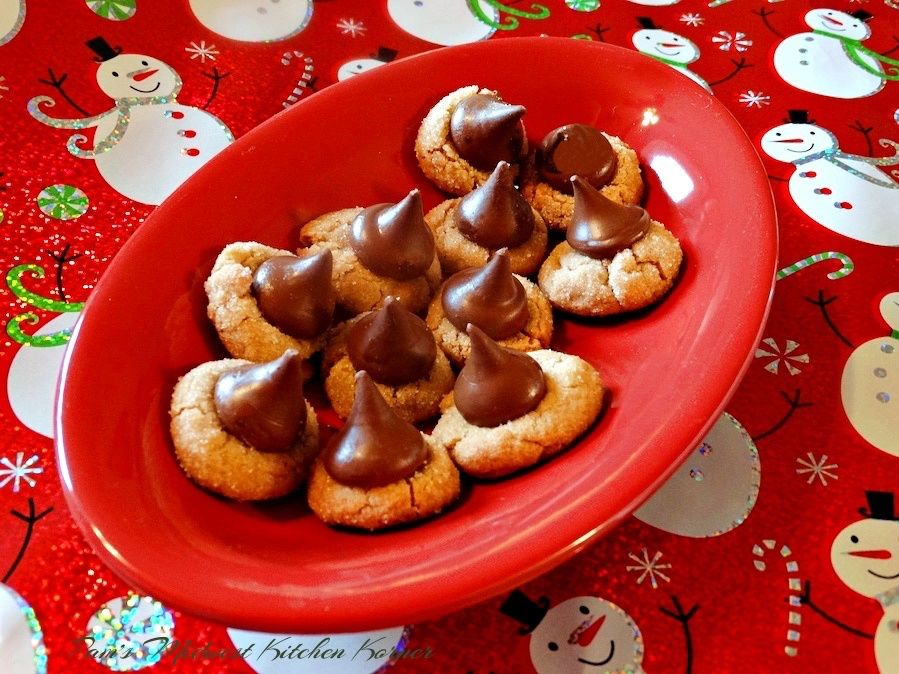 PEANUT BUTTER BLOSSOMS
The classic cookie, soft chewy peanut butter cookie, rolled in sugar and topped with a Hershey kiss. This recipe makes a lot!
ingredients:
1 cup shortening ( I use Crisco Butter Flavor)
1 cup peanut butter
1 cup brown sugar, packed
1 cup white sugar
2 eggs
¼ cup milk
1 tablespoon vanilla extract
3½ cups flour
2 teaspoons baking soda
1 teaspoon salt
½ cup white sugar for rolling
2 (9-ounces) bags Hershey's milk chocolate kisses, (about 84), unwrapped
instructions:
How to cook PEANUT BUTTER BLOSSOMS
Preheat oven to 375°.
Grease baking sheets or line with parchment paper.
In a large bowl, cream together shortening, peanut butter, brown sugar, and 1 cup white sugar until smooth.
Beat in eggs one at a time, stir in milk and vanilla.
Combine flour, baking soda, and salt; stir into wet mixture until well blended.
Shape a tablespoon of dough into balls, and roll in remaining white sugar.
Place cookies 2" apart on cookie sheets.
Bake for 10-12 minutes.
Remove from oven and press a chocolate kiss into each cookie.
Transfer to racks to cool completely, the kiss will harden as it cools.
Enjoy!